Amcrest UltraHD 4K POE Turret IP Security Camera / 8-Megapixel 3840×2160 / 164ft Night Vision / MicroSD Recording / Metal Housing / IP67 Weatherproof / 2.8mm Lens / FOV 112° / IP8M-T2499EW-28MM (White)
CAMERA FEATURES :
Works with Blue Iris!
EXPERIENCE ULTRA HD 4K – Stunning ultra-high quality 4K (8-Megapixel / 3840×2160) resolution featuring enhanced low light capability utilizing the latest IMX274 Sony Starvis image sensor and S3LM Ambarella Chipset. Super-wide 112° viewing angle allows you to cover more ground and keep more of what matters to you safe. Power Over Ethernet (POE camera) for easy installation (POE Injector or Switch Required; Not Included, Sold Separately).
SMARTER SECURITY – Receive motion alert notifications and review footage via your smartphone with the Amcrest View app. Playback and record professionally on a PC using the Amcrest Surveillance Pro for Windows and MAC (included) or Blue Iris Professional. Works with Amcrest Cloud remote video storage, MicroSd Card (up to 128GB), Amcrest NVRs, Synology and QNAP NAS, FTP, Pale Moon and Sea Monkey Browsers, IE, Safari, Firefox 49.0 and Chrome with Amcrest Web View Extension.
DAY OR NIGHT, RAIN OR SHINE – Built to whether any storm and the darkest of nights, this Dome 4K PoE IP Turret Camera features a heavy-duty metal weatherproof IP67 housing as well as built-in IR LEDs and a CMOS 1/2.5" 8MP progressive image sensor to achieve unsurpassed low-light capability and night-vision up to 164 feet. Dual H.265/H.246 compression allows for maximum encryption with the latest technology as well as backwards compatibility with legacy platforms.
SECURE CLOUD VIDEO BACKUP – The optional Amcrest Cloud remote video storage subscription service allows you automatically store your videos off-site in a third-party location hosted and secured by Amazon AWS. This way if something happens to your local PC/NVR/SDcard/NAS, the footage will be safely recorded in a secure off-site location and accessible to you through a web-based Flash interface for PC (Chrome/Firefox/Safari/Edge) and AmcrestCloud smartphone app.
SIMPLE, RELIABLE, SECURE – At Amcrest, we want to ensure the safety of our customers, their loved ones, homes and businesses. You'll receive a full 1-year US Warranty and Lifetime Support provided directly from Amcrest. Built in microphone for one way audio. Compatible with the following Amcrest Junction Boxes: AMCPFA130-E, AMCPFA130-E-B, AMCPFB204W.
Works With Blue Iris
This camera is tested and confirmed working with Blue Iris. Easily add the camera to Blue Iris and enjoy the robust features of both the camera and Blue Iris Software.
Superior HD 4K (8 Megapixel)
Featuring the latest Sony IMX274 progressive scanning image sensor and the Ambarella S3L33M Chipset, the Amcrest UltraHD camera soaks in the entire scene, dynamically painting all the vivid colors and rich imagery, pixel by pixel, onto your computer screen or smartphone in full 3840×2160 resolution. No need to strain your eyes, lean in close, or play the guessing game when you have this level of detail.
Simple Power Over Ethernet Setup
Save your time with a simple setup process that can get you up and running on the Amcrest View mobile app in no time at all. You don't have to be tech savvy to get setup quickly and painlessly. Simply power it on, download the app, scan the QR code, and within just a few taps you're ready to go. Day to day operations are a breeze thanks to the simple interface which allows you to take advantage of the camera's powerful features.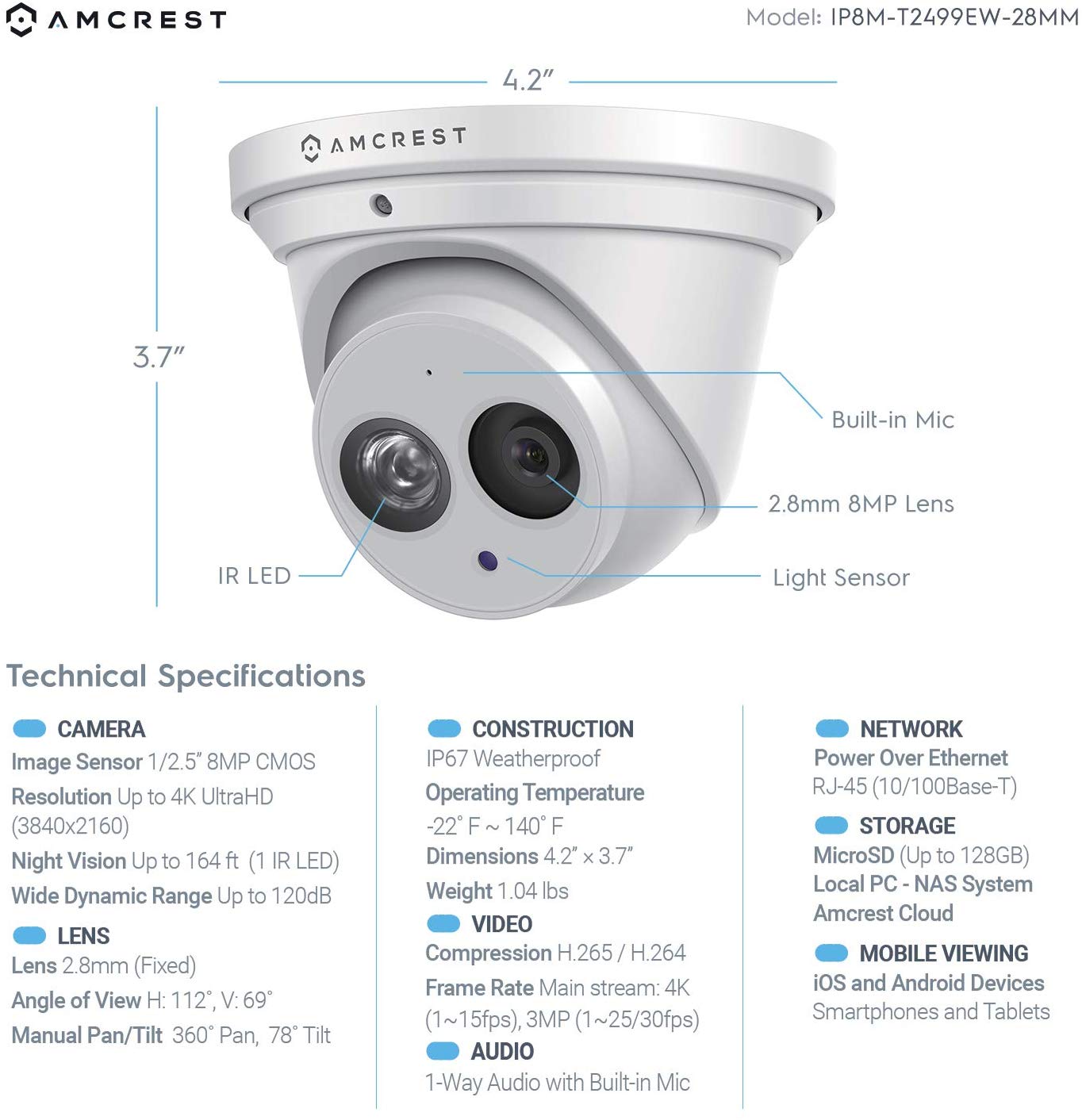 MicroSD, FTP & NVR Storage
In addition to Amcrest Cloud, the Amcrest UltraHD camera can also record to an FTP server, onto your local computer, to a MicroSD Card (up to 128GB capacity) or to any Amcrest NVR (not included). You'll have full control over your recordings and can manage them however you'd like.
Smart Motion Alerts
The Amcrest View Pro app frees you from having to check in just to find out what's been happening lately. Instead, get immediate push notifications and alarm details sent to your smartphone while you're on the go. Launch straight into the app, choose an event from the Event List, and jump right to the relevant recording or snapshot. Life doesn't wait around, and neither should you.
Advanced Zone Detection
Create distinct motion detection zones to completely customize control over what you're monitoring. This is an effective way to ensure that you only record what you need when its important. Each zone includes its own sensitivity and threshold meters so you can fine-tune it exactly to your liking. Let the Amcrest UltraHD camera hold its focus so you don't have to lose yours.
Intelligent Timeline Playback
Your stored recordings and pictures are precious, and having that data at hand is the whole point of using a security camera. Whether sharing with friends and family, or presenting evidence in a court case, it is important to be able to immediately identify, track down, playback, and export what you want, when you want it. The Amcrest UltraHD camera's intuitive searchable timeline will make your life easier, save you time, and act as a sophisticated built-in video player.
Infrared Night Vision
Cutting-edge night vision technology allows you to get a crystal clear picture even when it's dark. This camera has 12 IR LEDs which transmit their infrared rays in a frequency imperceptible to the human eye. The IR lights cast brightly which provides an astounding 32 feet of night vision range. With this powerful feature, you can gain total awareness over the previously unseen and do so in a way that is undetectable.
Wide 112° Viewing Angle
A carefully crafted 2.8mm fixed lens with a max aperture of F2.4 generates striking visuals owing to the 112° viewing angle. With such a wide field of view you will have no problem keeping what you care about in your sights.
Secure SSL & AES Encryption
The Amcrest UltraHD camera features secure SSL connections via HTTPS as well as uses AES encryption for wireless devices to comply with modern WiFi standards for encrypted connections. This way you can always be assured that, as you play your footage, you're also playing it safe.
US Support & Warranty
Any user of Amcrest products can take full advantage of the expansive support content available. Between our YouTube channel, knowledge base, forums, and US email/phone support team, anything and everything can and will be answered quickly and simply. In addition, each purchase with Amcrest will include a 30-day money back guarantee as well as a 1-year replacement warranty.
You may also post in our Amcrest forum.